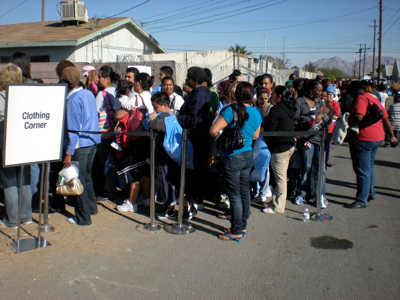 Tuesday, December 1, 2009
Helping those less Fortunate

We had a wonderful time as we helped clothe homeless children for Dream Centers annual Helping the Homeless Thanksgiving Holiday event. We consider it a big success, and hope that those we helped felt as blessed as we did.

We appreciate all those that volunteered. We had Lullaby volunteers, LDS church members, Factory Motor Parts employees and many others there serving the ten thousand needy individuals in attendance. We were able to supply clothes, coloring books and toys to over 2000 of those attendees.

From the 14 pallets of of clothes and toys that were donated, and collected by The Lullaby Connection, we didnít have to turn anyone away. Each and every person that came left with something.

All of us at The Lullaby Connection hope that we handed out more than just clothes that day, we hope that we were able to touch lives for the good. We know that each time we give of ourselves, our lives are the ones that are touched and we are grateful for the opportunity to serve.

Thanks again to all that helped us make this yearís Thanksgiving holiday event a success.

If you would like to help volunteer, please read more about us.